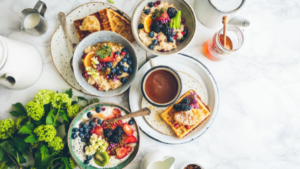 There is nothing quite a good brunch special. Brunch is a great mealtime. Brunch is usually a weekend option when people have more time to dedicate to a mid-morning, early afternoon meal. This tradition of the in-between breakfast and lunch serving time began in the UK, but it took about 30 years for the idea to catch on in the US.
Today brunch is favored meal time. An extensive brunch menu combined with a brunch special is a great way to enjoy a delicious meal and find the perfect food for everyone in your group.
What is Brunch?
This is the meal in between breakfast and lunch. Typically a brunch special will combine both traditional breakfast foods with traditional lunch foods, and add in a few surprises. It is perfect meal time for those that:
Do not want to rush to a morning meal
Want a menu that offers eclectic options that include foods from both breakfast and lunch
Want to enjoy a relaxed meal at a relaxed time
Breakfast specials typically are served from about 5-6am to around 10 am. On the weekends, after a long work week, many people find the idea of rising early and heading out to a restaurant daunting. Brunch specials are the perfect go between. You do not have to get up too early to enjoy a good company and a great meal.
Perfect Way to Relax with Friends
Brunch Newark DE residents know, is the perfect way to meet up with friends on the weekend to catch up. You can celebrate with brunch those special occasions like birthdays, anniversaries, engagements, promotions, and more and still have the whole day ahead of you.
A holiday brunch is the perfect way to gather family and friends, without requiring that they get up at the crack of dawn or commit their entire afternoon. Timing is everything to ensure everyone can attend, and brunch happens at the perfect time of day.
Take advantage of the brunch special that everyone in Newark DE anticipates as one of the best opportunities in DE to find a delicious menu, served at the right time, in a great environment. Do something a little different this weekend and experience the in-between meal.