Deerfield's Employee Of The Month will recognize a team member who – via one remarkable example of extraordinary service, a consistent pattern of delivering exceptional guest service, or both – embodies a genuine and tireless "spirit of hospitality" in the way that he or she engages with our guests. An Employee Of The Month will distinguish himself or herself with courtesy, friendliness, empathy, enthusiasm, hard work and determination. He or she will, by word and deed, make a lasting positive impression on both guests as well as fellow team members each of whom will be inspired to emulate the effort and attitude of the Employee Of The Month. Winners of the Employee Of The Month Award will exemplify the Forewinds Hospitality credo of "Satisfaction Is Never Enough. Guests must be astounded – every visit – every experience – every day."
2023 Employee of the Month Award Winners
August
Rebekah Bower
Bekah Bower joined Deerfield in September of 2022, just a little more than one year ago. In that time, Bekah has really grown in her role as Banquet Server, becoming a natural leader and go-to presence among other staff members and managers. Bekah works a lot of shifts, and has quickly excelled in all areas of banquet service, from set up and prep work all the way through to preparing the space for the following day's events.
Bekah has been a reliable and trustworthy presence at the holiday dining events we have conducted since she joined us and has been critical to the success of some of our most high profile and intricate events. In addition to working events so skillfully, she's become someone that we lean on to train the newest team members and demonstrate for them our practices and procedures. To be able to do all that and more in such a short period of time speaks to how quickly she's learned our standards, and seamlessly expanded her role on our F&B team.
Bekah is a native of Delaware. When she's not working at Deerfield, she can often be found doing some of her favorite things, including practicing yoga and meditation. Additionally, she enjoys biking, reading, and nurturing her houseplants. But don't let these quiet, mindful hobbies fool you – Bekah has a great sense of humor and is an easy conversationalist. This lends itself personally to being a polished and professional presence at any event.
We received some great recommendations about Rebekah's candidacy for this honor. One nomination said in part, "Rebekah has become a superior staff member in a relatively sort amount of time. She does a fantastic job staying present in the room and both anticipating and responding to the needs of guests and clients. She's friendly, reliable, and one that can be counted on to coach new staff members. I have noticed on several occasions that she is one who will begin to complete setup tasks immediately upon arrival rather than waiting for lots of direction or manager input. She's developed a good sense for what's required and doesn't waste any time getting the event started right." Another said, "She's been a key addition to an already talented team. It seems like she's been here forever. She leaves every guest and every shift better by her quiet confidence, enthusiastic effort, and helpful attitude."
July
Salomon Bernal
Salomon Bernal is a most deserving winner of this award, especially when you consider how diverse and impactful his contributions to Team Deerfield are.  Salomon's primary role on our team is as a member of the grounds crew.  With the golf course busier and in better condition than ever, Salomon's efforts taking great care of the golf course and grounds have never been more important.  After joining us in July 2021, Salomon rapidly grew in his role on the grounds crew, adding new skills and responsibilities as his tenure went on.
Superintendent John Jacob relies heavily on Salomon for the care of fairways, tees, bunkers and greens, in addition to the detail that is required around the clubhouse, the front entrance, the Sales Building, and the Rankin House.  His reliability and trustworthiness are critical, as much of what Salomon and the crew do can be solitary work.  However, when a project arises, Salomon is a fast learner, a hard worker, and someone that anyone on our crew is happy to team up with.
Most recently, Salomon has been contributing on the housekeeping crew.  It started in the winter, when the golf course work was a little more limited, but events can still be frequent.  Salomon was happy to come in and help maintain the banquet spaces and keep them "show-ready" for tours and the next event.  We are so grateful to have him step up and contribute to the housekeeping efforts the way he did.
His nomination said in part, "Salomon has been such a fantastic contributor to the grounds crew.  He is someone who is on time, ready to work, and easily coachable.  He is happy to take on any task, and equally happy to support a team member on some aspect of maintenance.  We are very fortunate to have him on our grounds crew."  Another said, "Salomon is one of those rare individuals who contributes on multiple fronts.  From an operational standpoint, he is a difference maker on the grounds crew and in the clubhouse.  He can always be counted on and does exceptional work.  From a hospitality standpoint, he is quick with a smile and a welcome hello.  The impression he makes on colleagues and guests helps make him an invaluable resource to our team and our mission."
June
Bella DiMaio
Bella joined Team Deerfield about ten months ago, in September, 2022. In that time, Bella has grown tremendously in her role, quickly becoming one of our most reliable, skilled and trusted team members on the special events team. As a Banquet Server, Bella has the responsibility for being customer-facing nearly throughout the shift. Weddings, parties, and galas – these can be very high anxiety times for our clients and guests. Bella's calm demeanor and steady approach are a great way to be in service for the valued customers that choose Deerfield for these once in a lifetime celebrations.
Bella has also been amazing at training new staff members. Seasonally, we have some new teammates that join us for the summer – or maybe just the school year – and Bella has stepped right up into a leadership role showing the rookies the ropes. Bella has a great relationship with her teammates and the managers that lead her department. Mike Josephick, Executive Chef, has mentioned Bella specifically as someone that is a quiet, natural leader and a helpful hand that volunteers for nearly any situation that may arise.
When Bella is not working at Deerfield, she enjoys going hiking or kayaking. She also loves taking her black lab Cali out on adventures. We received several enthusiastic comments in support of Bella's nomination. Everyone on the Forewinds Hospitality Executive Team that reviews our monthly nominations agreed that Bella is a magnificent choice for this recognition.
Her nomination said in part, "From the start of Bella's employment with Deerfield, she has stepped right up and championed any task sent her way. She takes a professional and polished approach to ensure Deerfield standards are not only met but exceeded. Bella can always be counted upon to get the job done right and lets a manager know if there is anything ever amiss. She's a team player with all the right stuff and simply one of the best." Another said, "Bella is a real pleasure to have on our team. At first meeting, she may seem a bit more reserved, but her enthusiastic hospitable spirit comes across easily to both guests and colleagues. I am incredibly proud to have her on the team. She's made a remarkable impression in less than one year of service, a testament to her impact on our crew."
May
Tim Krajewski
Tim came on board with Team Deerfield back in the Summer of 2019, mainly serving in the Pro Shop but helping support and direct the Outside Services team as well.  This role in the Pro Shop can be a very busy and dynamic one.  Not only are there busy days, with public golfers, passholders, leagues and golf outings filling most shifts, but there can be any number of unexpected circumstances that can arise during the shift.  These can include inclement weather, the occasional stalled golf cart, or a myriad of other requests and accommodations.   Tim's measured demeanor and friendly persistence has permitted him to become a most trusted member of the Golf Shop service team.  Tim is always ready to pitch in when needed.  Whether it's a brand new team member in need of direction, or a member of another department that requires assistance, Tim is always quick to volunteer and happy to help.
It's also very helpful that Tim is a golfer.  This perspective of what a golfer expects and appreciates is a valuable trait.  Tim's shown an incredible ability to balance all of the demands of the position – setting tee times, greeting golfers, scoring golf outings, selling gift certificates, taking phone calls and communicating with all of the other Golf Team members, to name a few – with polish and professionalism.  In addition to all of this, he's a great role model for all other employees –always on time, consistently in uniform, and determined to take good care of the golfers and guests.  He consistently keeps management advised of issues or circumstances on the course, and helps lead the daily operations with an even keel and a friendly spirit.
When not working at Deerfield or playing a little golf himself, Tim enjoys cooking!  While he likes to cook a wide variety of creations, it's his "Peaches & Cream French Toast" that is always the biggest hit at his annual Christmas Family Brunch.  Feel free to share some with your Deerfield family, Tim!
We received several enthusiastic comments regarding Tim's nomination, one that supported by the entire executive team at Deerfield   His nomination said in part, "I am happy to nominate Tim Krajewski for Employee of the Month.  Tim possesses a laid back attitude and a never-frazzled demeanor that all guests appreciate at Deerfield.  When they come in to the golf shop and see Tim, they know they are going to be treated great."  Another said, "Tim is certainly a cool customer under pressure.  There can be any number of unanticipated challenges during a busy summer day, and Tim handles them all with courtesy and grace.  We are lucky to have him on our team."
April
David Walker
David Walker came to Team Deerfield in February of 2020, just over three years ago. Little did we know that a month into David's tenure at Deerfield, the world and the business at Deerfield changed dramatically. However, David was still able to become a key contributor to the banquet service team. As events continued slowly accelerated and eventually resumed in full, David continued to impress the Deerfield management team with his resilience and determination.
As a banquet server, David is responsible for a very high level of customer facing responsibilities. Whether it's a wedding, a fundraiser, a meeting or some other type of social event, David has proven to serve the guests with courtesy and a relaxed, friendly approach. Often, events can shift a bit unexpectedly, whether it's due to timing, weather, or some other unforeseen circumstance. David is someone who remains at ease and poised regardless of the pressure presented. David has a great rapport with the chefs and culinary team at Deerfield and is someone to be counted upon when it comes to communicating necessary details or updating a colleague or someone from a different department with critical information. When we need someone to show a newer team member how things are done around here, David is very quick to step up to the opportunity. He is happy to assist with setting the room(s) for the following day and making sure that the team and the guests on deck for the following day are set up to be successful.
David is a native of Wilmington (but grew up spending a lot of time in Florida) and attended school at St. George's Technical High School. He studied Chemical Process Operating at Delaware Technical College and pursues his "regular" career at a local company. When he's not working a lot of hours serving the guests at Deerfield (or at his full-time job), David loves to spend time with his family, travel, work out at the gym, and play basketball. He said of his time at Deerfield, "I can always count on having a great day at Deerfield and look forward to what is coming next!"
We received a couple of fantastic comments regarding David's nomination, one that the entire executive team at Deerfield agreed upon unanimously. His nomination said in part, "Please consider David Walker for Employee of the Month. David is always smiling, and always involved. He's consistently willing to be the 'go-to guy' on anything related to an event at Deerfield. He brings a fresh and positive vibe to the service team every day." Another said, "We're all thrilled that David has been recognized in this way. His attention to detail and focus on the customer experience makes Deerfield a better place to be."
March
Sarah Barczewski
Deerfield is lucky to have Sarah Barczewski as a very valued member of its Banquet Server team.  Joining us in May of 2022 (it seems like you've been here longer than that, Sarah!), Sarah, (or "Sarah B." as she's known to the Deerfield team), made an immediate positive impact on guest service.  Sarah is the type of person that makes the team more energized simply by her presence.
Sarah has proven to be very quick to assist any team member in need.  At times like this – when we are onboarding several new banquet servers for the season – Sarah is always willing to show the new person where everything is, and how to handle the day-to-day projects and processes.
She's also someone who is very giving toward others.  For example, on busy holiday dining event days, Sarah has gone out of her way to bring her own baked creations  to the "pre-shift breakfast" that the team enjoys before we open the doors to guests.  She applies that others-focused approach to guest service as well.  It's clear that Sarah wants the guest or client to have the very best experience possible.  She takes pride in doing a great job, and helping our events be the very best they can be.
Reliable, trustworthy, hard-working, friendly, flexible, and enthusiastic – these are all words that describe Sarah.  Because of all of this and more, she's become one of the most trusted members of the Banquet Service team.  When not working hard at Deerfield, Sarah's plenty busy studying to be a Radiology Technologist, riding her horse, hanging out with her corgis or enjoying a good book.
We received a couple of fantastic comments endorsing Sarah's nomination, one that received enthusiastic agreement from all involved.   Her nomination said in part, "Sarah is one of those servers you see on the event and immediately know it will turn out great.  She embodies the Deerfield spirit of hospitality, making sure all guests' needs are taken care of.    She goes out of her way to fix any problem that may occur.  She's a shining star – and one we are thrilled to work with on our team."  Another said, "Sarah has a wonderful approach to hospitality – warm, welcoming, helpful and friendly.  She is adaptable, diligent, and a great teammate.  We're all thrilled she's being recognized this month for a job well done."
February
Kris Sweringen
We were happy to welcome Kris onto the team at Deerfield in January of 2022, about 14 months ago. Over that period of time, Kris has become one of our most seasoned and reliable members of our banquet service team. Our banquet servers are very often the most customer-facing team members on the property, and often in some of the most anxious and important moments – wedding ceremonies, receptions, family gatherings – there can be some pressure to deliver in the moment. Kris has been able to flourish in that environment in his time with Team Deerfield.
The banquet server oversees all aspects of food and beverage service from the beginning of the event through the end. But there's a lot more to it that the customers don't see. Room changes prior to an event beginning, all the setup and sidework – all this must be followed to the letter in order for there to be no unexpected moments once the client arrives. Then, there's the after-party (not the really fun one that the guests go to at the hotel!) This one involves all the cleanup, the breakdown, and the resetting of a space for the next day's events.
Often, that reset can happen midday – between a morning event and an evening event, where the clock is ticking, and the space needs to be perfect by a certain time. Kris has proven to be highly successful in this type of environment, staying on task, focusing on the next step in the process, and doing so with a calm and measured manner that both team members and managers appreciate. Kris is reliable, trusted, and hard working. He's happy to train the new person and assist someone in his department or another. His quiet confidence and helpful spirit help make any event at Deerfield be successful.
We received a couple of fantastic comments in support of Kris' nomination, one with which everyone on the Executive Team immediately agreed. His nomination said in part, "Kris is one of those servers who can take charge of any situation and make sure the job gets done. Respected by all, he works closely with management, especially during a tedious reset. He is a fantastic server, and always relied upon to make sure our buffets are fully taken care of." Another said, "From the start, Kris has been an asset to the Deerfield team. Quick to help with any task, Kris can be counted on to get the job done. His impeccable work ethic and gracious demeanor are a true testament and he continues to shine like the superstar he truly is."
January
Cristina Spring
Cristy joined Team Deerfield in September of 2021 as a member of our food & beverage service  team. She quickly focused mainly on the area of convenience cart. As any of our golfers will tell  you, the convenience cart is one of the most critical – and popular – roles within our food &  beverage department. Often times, it's just on a busy day of golf for our public golfers and  passholders. Often, however, it's because we may have a golf outing that fills the golf course for a  charitable organization. Regardless, it's a crucial job and one that requires efficiency, speed,  accuracy, and of course, warm hospitality. Regardless of the weather, Cristy proved she could get  the job done shift after shift.
Then, in November of 2022, Deerfield had an unexpected open position in our Accounting Office,  and Cristy was quick to express interest in the role. She immediately dove right in, supporting the  accounting and financial control responsibilities for Garrisons Lake and Jonathan's Landing in  addition to serving some of Deerfield's needs as well. These tasks can include processing daily sales and Accounts Payable for Garrisons Lake and Jonathan's Landing, maintaining deposit  schedules, inputting inventories, and more.
The three Forewinds Hospitality properties Cristy supports in her role in the Accounting Office  have three primary ownership contacts. Cristy helps prepare key reports and data for each of  those ownership entities and helps assure that all of the financial and reporting aspects of our  businesses are clear, transparent and consistent. While she plans to continue this important work  into the 2023 season, we'll also expect to see her serving in the F&B department as well as the golf  season gets fully underway. So, if you're a vendor, a team member, or even a thirsty golfer – you  can expect to experience her enthusiastic attitude and friendly service throughout this year.
We received a couple of great comments in support of Cristy's nomination, one that all of  Deerfield's executive team were happy to endorse. The nomination said in part, "Cristy has  worked diligently to improve her skills in the Accounting Office. She makes every day  easier, and never ends the day without asking if there's anything else she can do. She  learns new skill sets while maintaining that consistent positive attitude, even volunteering  for the less attractive tasks with enthusiasm." Another said, "Cristy was the perfect selection  for her new, expanded role. It's a treat to have a team member that excels in one important  area – it's even more wonderful when they prove to be excellent at two or more! Cristy is  one of those rare finds – we're thrilled to have her on our team."
2022 Employee of the Month Award Winners
December
Shy Ebuenga-Smith
When Shy joined our banquet service team seventeen months ago in the late summer of  2021, we recognized immediately that we had a great addition on our hands. In her role as  banquet server, her efforts are critical in successfully assisting the needs of our wedding and  banquet guests. Whether it's following all the directives on an event's paperwork,  anticipating needs that might arise given the particulars of any banquet, or reacting to the  all-to-familiar surprises that can occur with any event, Shy immediately distinguished  herself with all of the key points of event setup and execution.
Another key role earned by our most successful banquet servers is that of Bridal Attendant.  With as many as 70 or 80 weddings happening at Deerfield on an annual basis, the wedding  ceremonies and receptions that take place here can provide a multitude of sensitive timelines, anxious moments, and high expectations. Shy's ability to serve and excel under  pressure in that role makes her even more valuable to her managers, her team and her  guests. When she's delivering hors d'oeuvres, serving champagne, fluffing a gorgeous  wedding gown or even chasing down a random safety pin or AA battery for Mother Of The Bride, Shy manages to do it all with a smile, a warmth, and a spirit of hospitality that makes  every moment memorable. Balancing all her work responsibilities and school  responsibilities (and some rigorous extra-curriculars) might sound daunting, but Shy makes  it all look easy. She's trustworthy, reliable, hardworking, courteous, and highly appreciated  by all that work with her.
We received an enthusiastic nomination for Shy's honor, and all of Deerfield's executive  team were thrilled to agree on her recognition. It said in part, "Shy embodies so many of  the attributes that makes Deerfield shine. She has a bright personality that makes any  day sunny, and always puts her best foot forward. She helps ensure the 'big day' is  everything they wanted and more." Another said, "Shy is a pleasure and a treasure –  the entire team is elevated by her hard work, hospitality-driven approach to guest  service, and her warm and welcoming presence. I couldn't be happier to honor her  with this well-deserved recognition for excellence."
November
John West
John joined Team Deerfield a little over a year ago, and very quickly became a key contributor to the success of our kitchen and utility team.  Hospitality hours can be challenging in any aspect of the business.  However, no department pulls a later and more arduous shift than that of our dish/kitchen/utility crew.  In tight confines and with long days, John and his colleagues do the very necessary work of making sure that all of our equipment and supplies are clean, safe and in good working order for that next party – a party that might be just hours or sometimes minutes away.
John has a great attitude, a tremendous work ethic, and a great sense of humor – all requirements to keep up and stay ahead in a busy banquet kitchen.  His ability to roll with the punches, pivot quickly to an unforeseen challenge, and support his fellow team members as well as people from other departments is very apparent and very appreciated.  John always has a smile and a kind word for others, and a big part of our successful 2022 season.
John is also committed to his family and wanted to be sure that one of his favorite people was pictured here on this announcement with him.   Hopefully we have another future Deerfield star in the making!
We received an enthusiastic nomination for this honor, and all of Deerfield's executive team agreed unanimously on his selection. It said in part, "Kindly consider John West as our next Employee of the Month.  John works tirelessly and well above the standard for what is expected of him in the utility area.  John's always got a smile and has a friendly personality while performing his daily rigors at the highest level."  Another said, "John really makes an amazing impact on the department and the facility overall.  There isn't anything John won't do to achieve a goal.  His commitment behind the scenes to do what it takes to make Deerfield tick is a very significant part of our overall success.  We are lucky to have someone like John on our team."
October
Logan Walsh
Logan came to Team Deerfield in March of 2021, as we prepared for another busy season that had been both increased and challenged by COVID.  As a high school student, Logan initially joined us as a part of the Outside Services team, assisting golfers upon arrival and helping them throughout their round.  Logan's role focused on managing the bag drop and first tee areas and getting golf carts safely restaged at the end of a busy day.  Filling sand and seed bottles, replacing scorecards and pencils, cleaning golf carts, picking the range balls, and helping maintain pace of play were just some of the tasks that Logan managed skillfully.  Very quickly, Logan became a trusted hand and a friendly face as the critical first impression for golfers and guests.
In more recent months, Logan has been promoted to Pro Shop Attendant, which largely focuses on processing sales in the golf shop, merchandise sales, taking phoned-in tee times, and miscellaneous sales and service responsibilities for both passholders and guests.  This role requires even more poise, flexibility, problem solving, and attention to detail.  Throughout the heart of the 2022 golf season, Logan has proven that he was more than ready for this promotion and added responsibility.  Circumstances can change quickly, due to events on the golf course, weather conditions, and even non-golf related events that happen throughout the day.  Logan has proven to be a valuable resource in this challenging and dynamic role.  Logan can be counted on to be on time, ready to work, and to possess a friendly attitude and a spirit of hospitality.  Logan has even been available to assist in the Food & Beverage areas on very busy days, and to step up to help other departments and other team members when requested.
We received a great nomination of Logan for his recognition, and all of Deerfield's executive team agreed on his selection for this honor. It said in part, "Logan has been with Deerfield for a couple of seasons now, and it's our pleasure to nominate him for Employee of the Month.  Logan has a wonderful work ethic and is very pleasant and positive to work with.  Logan has done a fantastic job taking care of our guests and helping wherever he is needed, even if it's in another department.  In the Fall, he was promoted to work inside the Pro Shop and he has truly excelled in that position, becoming an even bigger asset to the golf team."  Another said, "Logan has made a notable impression on our guests and improved the golf experience for everyone that plays Deerfield.  It's especially rewarding to see someone who can grow into newer and bigger challenges and make it look easy even when it's not.  We're all proud to work with Logan, and to watch him grow into new roles on this team."
September
Marshaan Ebuenga-Smith
Marshaan joined Team Deerfield in August of 2021 and made a remarkable impact on our team immediately. While she joined our staff in the role of banquet service, Marshaan quickly developed the skill set and unique talents required for a bridal attendant. Any customer facing role is a critically important one. However, when it's the person that is directly responsible for food and beverage service of the wedding couple – fluffing the dress and attending to those last-minute needs in the emotionally charged hours of a wedding ceremony and reception – it's clearly high visibility. Marshaan took to that role immediately and has become an important part of dozens of wedding memories in the fourteen months since her joining our team.
Reliability, trustworthiness, flexibility, and a measured hand are all required in the area of banquet service and especially the bridal attendant role. Marshaan has demonstrated all of these qualities and more, and it's made her among the most valuable members of her team. Her quiet confidence, warm smile, and careful attention to detail are elements she brings to our team, our guests, and our clients every day.
We're not always sure how she does it – balancing demanding school responsibilities, significant work requirements, and all the other aspects of life she juggles so well. However, the Deerfield team and the customers and clients with which she engages are very fortunate to have Marshaan be a skilled and spirited resource for all events big and small.
We received a great nomination of Marshaan for this recognition, and all of Deerfield's executive team unanimously voted positively for her honor. It said in part, "Marshaan proved to be a tremendous asset from the moment she first clocked in. Her friendly and positive attitude shines through her performance as a bridal attendant. She is a true team player and can always be counted on to get the job done and exceed expectations. Her strong work ethic and warm, welcoming nature have made the Deerfield team better. She's a fast learner and truly something special." Another said, "Attentive, caring, and on-point are just some words that describe this young professional. She exhibits a positive attitude and cheerfulness that impresses everyone with whom she comes in contact. We're honored to have an employee with her talents."
August
AJ Johnson
AJ joined the Deerfield banquet service team in June, 2021 and has steadily emerged into one of our most seasoned and experienced team members.  Coming out of the COVID year of 2020, which stretched into 2021, AJ was a key player on our team during a very uncertain and challenging time in Deerfield history.
Since that time, AJ has stepped into bigger and more pivotal roles on our team.  He has established himself as someone who can always be relied upon to be on time, hardworking, and diligent.  AJ handles the basics with care but is also excellent when it comes to anticipating needs.  Often, events can present unforeseen circumstances and unexpected wrinkles with timing, service or circumstances.  When that happens, AJ has shown himself to be a measured hand and calm under pressure.  He communicates well with fellow team members and managers alike.  When there's an opportunity to make a tough situation better – or a good situation even better – AJ is always up to the task.
AJ has developed into someone that will train others as well.  Seasonally, we often have new banquet servers that require training, guidance and direction.  We know we can count on AJ to be someone to provide reliable and constructive suggestions to our newest team members.  In addition, AJ has recently taken on some responsibilities as Banquet Bartender.  Having someone who can serve skillfully in so many roles – on course beverage stations, banquet bartending, banquet service and trainer – is invaluable to the success of our team and the collective goal of delighting our clients and guests.
We received a great nomination of AJ for this recognition, and all of Deerfield's executive team wholeheartedly agreed.   It said in part, "In the past many months, I have noticed AJ Johnson that has really made a mark.  Once a banquet server, AJ is now a banquet bartender and learning new roles in the Pub & Grille.  This has really caught my eye.  He's always someone with a quick step, and he's not afraid to jump at an opportunity.  His rise through the ranks has made him someone all current staff and new hires can benefit from.  His array of skills is a testament to his good training and I will look forward to watching him succeed even further."  Another said, "It's been a pleasure to watch AJ grow and flourish as a part of Team Deerfield.  I know more good things lie ahead for this dedicated and much appreciated member of our team."
July
Patrick Murphy
In February of this year, Patrick Murphy joined our Banquet Service team.  In just a few short months, Patrick has become one of our most reliable resources.  The Banquet Service team engages with our guests perhaps more than any other position.  Because of this, a team member who is friendly, warm, and inviting is critical for a great first impression, steady service throughout an event, and a warm message of appreciation at the end of the event.  Being "on stage" for most of our events means that the Banquet Server must be natural with people, navigate emotionally charged events, and remain calm under pressure and deadlines.  Patrick is an exceptional example of all these things.
In addition to the customer facing tasks and skills required, Patrick has also excelled at the demanding and less glamorous jobs of setup and breakdown.  Hours before an event begins, all the preparedness and anticipation of needs must be addressed in order for an event to go smoothly.  Then, after all the festivities have concluded, the jobs of resetting the room and ensuring that fellow team members will be set up for success the next day are valuable and necessary talents.  Once again, Patrick has separated himself as someone who can do this without hesitation and with enthusiasm.
Patrick is quick to help a colleague, eager to support another department, and reliable.  Further, Patrick is happy to train and support some of our newer team members, and never seems to hesitate in whatever capacity might be required.  Whatever the task, Patrick can be counted on at all times to provide his very best.
We received a very strong nomination of Patrick for this recognition, and all of Deerfield's executive team agreed that he would be a most deserving winner.   It said in part, "In my estimation based on many years in the hospitality industry, Patrick Murphy embodies what it is to be an outstanding server.  He is always willing to go the distance to see that the details are managed, and the finer points are handled without flaw.  With any type of event that we host, Patrick's involved from beginning to end.  He is a great resource to rely upon throughout every shift."  Another said, "Patrick's impact on our banquet service team was immediate.  No job is too big or too small for him, and he seems to have a tireless 'motor' that is contagious.  He makes our team better – he makes our business better – and each client's event is enhanced by his involvement.  I can't think of a more deserving candidate."
June
Alan Hill
Alan joined Team Deerfield in 2006, and is currently in his seventeenth season with the club.  Forewinds Hospitality had just entered an agreement with the State of Delaware to operate Deerfield when Alan was hired as Deerfield's golf course mechanic.  Golf course mechanic is one of any golf course's most critical roles, because after our people, the golf course is our most valuable asset.  Alan has proven – for longer than a couple of our employees have been alive – to be a most talented and responsible caretaker for Deerfield's maintenance equipment.
Keeping accurate records of repairs and ordering all the necessary parts and tools to do the job right is a big part of Alan's job.  Maintaining flawless logs and well-organized operations manuals are also a big part of this important role.  However, a great mechanic like Alan does much more than the basics.  Alan is a key contributor to the maintenance of the golf course – not just the equipment – on a daily basis.  He is counted upon on any given day to contribute to the mowing, raking, and general care of the turf and grounds both on the golf course and around the clubhouse.  With nearly 30,000 guests per year across its fairways, this both a big job and a complicated job that Alan handles well.
Further, Alan is a critical part of any construction project.  This could be tree work, irrigation work, or the construction of a new tee or steps to a tee or green.  The operation of heavy machinery, his expertise in design and execution, and working side by side with Deerfield's golf course superintendent are all aspects of Alan's role that result in great conditions and an attractive setting for golfers and non-golfers alike.  Alan is happy to contribute to snow removal and salt applications through the winter and is often relied upon to support several other departments and team members.
We received an enthusiastic nomination of Alan for this honor, and all of Deerfield's executive team immediately agreed.   It said in part, "Alan's talents and value to the grounds department has never been more evident than the start of the 2022 season. He has managed to contribute in countless ways this year. From assisting with the massive drainage project on 10, painting the grounds parking lot, maintaining a fleet of mowers, golf carts, sprayers, and other equipment, and repairing beverage carts. Despite the supply chain shortages, Alan has found ways make repairs by either fabricating parts, purchasing parts from unfamiliar sources, or utilizing service providers when necessary. Maintaining an equipment inventory that is past its prime only gets more difficult with time as the availability of parts decreases.  However, Alan has done a fantastic job keeping things running to support the grounds crew in maintaining a great golf course for our guests."  Another said, "I've had the pleasure to see Alan work and grow since 2006.  Though his work may not always be customer facing, there isn't a more important role to golf course and equipment maintenance than his.  We're lucky to have him on our team."
April
Alexandria Lento
Alex joined the sales team at Deerfield nearly three years ago, in June of 2019.  The enthusiasm and energy that she brings to the role of Sales Manager at Deerfield is remarkable.  The clients really enjoy working with Alex and have a very high degree of confidence in her ability to deliver on all those many promises and arranged details that make up a special occasion.
Over the past three years, Alex has become a bit of a specialist for the unconventional.  If there's a way that the client and our team can work together to "make it happen," Alex is always more than willing to craft and help deliver a solution.  Her genuine joy (there's really not a better word) for her clients and their upcoming celebrations and her role in them is palpable.  She is trustworthy, committed, and highly engaged – she is a trusted caretaker for some of life's most special events, and the sales team and Team Deerfield is better because of her many contributions.
Alex's sales performance has been extraordinary.  She has made a massive contribution to the banquet sales success of Deerfield, and regularly enjoys rave reviews from clients who enjoy the privilege of working with her.  In addition to her role as Sales Manager, Alex is always more than happy to contribute to the execution of events "day-of" as well.  She often works beside either the operations team or the bridal attendant to ensure all the last-minute finishing touches are well appointed.  Recently, she volunteered to stay late into the evening when an additional buffet attendant was required.  Further, there were times during 2020 when, because of COVID, we needed managers in other departments to help on the grounds crew.  Alex was among the first to volunteer, weeding sand traps and picking up limbs and debris. Alex is the epitome of a team player, and a pleasure to work beside.
We received a fantastic nomination of Alex for this honor, and all of Deerfield's team of Department Heads heartily agreed.   It said in part, "Alex Lento is one of the shining stars of the Sales Department.  Her consistently upbeat energy with our internal team is impressive, but it is truly the energy she brings to her clients that is unmatched.  Watching her is inspiring, and her passion for Deerfield is enough to make you grin from ear to ear."  Another manager shared, "I can't say enough about how Alex elevates the atmosphere of hospitality at Deerfield.  It was once said that some people are thermometers – they simply change with the atmosphere they're in.  Other people are thermostats – they actually change the energy in the room themselves.  Alex, I am proud to say, is a thermostat."
March
Griffin Subers
Sometimes, a team member is successful in slowly and steadily developing the skills, presence, and enthusiasm required to be successful in a hospitality role.  And then, there are times when a team member arrives on day one with the ability to serve the guest, assist the client, train the newer staff members, and elevate everyone's game.  The latter is the case with Griffin Subers, our Employee of the Month for March, 2022.
Griffin has until recently been serving in the Banquet Server role at Deerfield, one of our most critical customer-facing positions that support parties, weddings, galas, and celebrations of all types.  Very quickly, Griffin established himself as someone with a tireless enthusiasm for hospitality and a remarkable warmth and courtesy for his fellow team members, event hosts, and guests.  In addition to his stellar performance in all of the fundamental aspects of banquet service, Griffin has very successfully emerged as a "go-to" individual for buffet décor, setup, and overall presentation.
Griffin's humility and thoughtfulness are apparent on a daily basis.  He brought in holiday chocolates and treats in December, and generously set up a candy buffet for Valentine's Day that his whole team could share.  For Bruch With Santa, just his holiday spirit was just not enough.  With each of the passing three weeks, his uniform was further adorned with newer and more extensive features, culminating with pointed Elf Ears and more!  Griffin is truly "extra" – in the best way possible.  Just this week, Griffin has transitioned from Banquet Service to the role of Banquet Captain, where his ability to lead our team and impact our guest experience will be even more extensive.  We are proud to have him in this new and exciting role – it's well deserved.
We received an enthusiastic nomination of Griffin for this honor, and all of Deerfield's team of Department Heads agreed unanimously.   It said in part, "From the moment I met Griffin in our initial interview, I knew he was a hospitality star.  His never-ending positive attitude and CAN DO approach has exceeded all expectations.  Griffin cares for his fellow team members, not just with gifts and special surprises but with his general care and concern.  His thoughtful, generous and kind nature is like no other."  Another manager shared, "Griffin is a trusted, respected and appreciated member of our banquet service team, and a welcome new addition to our group of dedicated managers.  I am excited to see where Griffin's path in this industry leads, and couldn't be happier to work beside him."
February
Seth Graham
Seth joined Team Deerfield over three years ago, in very early 2019.  Seth serves as a Banquet Server, assisting guests who attend Deerfield for weddings, parties, galas, and other special occasions.  Seth is always among our most reliable and diligent workers and possesses a great positive attitude and natural enthusiasm that serves him well when taking great care of guests and supporting other team members on the banquet service team.
There's no one any more trusted with the care and attention each guest and client deserve than Seth.  Now into his fourth season with us, Seth's performance continues to leave a lasting impression not only on the guests he serves, but the team of colleagues and managers with which Seth works.  Seth also assists on course with golf outing food and beverage service in addition to his role in banquet service.  Whether it's setup, breakdown, banquet service or on-course roles, Seth is a big part of making a client's wishes come to fruition.
In addition, Seth has naturally evolved into an excellent coach of some of our less seasoned team members, showing them how to best set up a space or prepare for an event.  He's very conscious of the client's needs and is exceptional at anticipating challenges before they arise and preparing accordingly.  This was very apparent recently when we had two large, annual corporate events on site for their intricate functions.  Seth was instrumental in setting up the space so that it went smoothly and worked hand in hand with our Food & Beverage Managers taking an equal share of the work and the responsibility.  You can see his natural leadership qualities emerge, and how well he manages a complex plan with many details to navigate.
We received an enthusiastic nomination of Seth for this honor, and all of Deerfield's team of Department Heads were quick to agree.   It said in part, "Seth has proven to be a true leader at Deerfield and is one of the most valuable team members we have on the Banquet Service staff.  He clearly spends extra time developing plans to execute room changes and arrangements.  He's shown his knowledge in all areas of the business and has grown to be a huge resource for all staff members and managers.  He CARES – you can clearly see how much time and patience he gives each event."  Another manager shared, "Deerfield is a wonderful place to celebrate life's special moments because of individuals like Seth.  He makes each of us better – and I can't think of a higher compliment than that."
January
Sierra Matthews
Sierra Matthews joined Team Deerfield more than three years ago, in November of 2018.  Sierra has quietly and consistently become one of our most trusted team members among her fellow banquet servers.  As a Banquet Server, Sierra is responsible for some of our most important and critical tasks, including but not limited to serving the guests at the table, directing guests to the table, and preparing the space and all the necessary service items so that the wedding, party or special event runs flawlessly.
Sierra has steadily grown in this role and is among our most experienced team members among the banquet server staff.  Sierra has warm presence and is always a friendly and engaging presence with both customers and colleagues.  She's quick to provide assistance to anyone who may need it, and has proven to be incredibly reliable and trustworthy with any and all tasks for which she is responsible.  Recently, she's taken her talents to the culinary side, supporting our kitchen team by contributing at the dessert station for events such as Brunch With Santa and other holiday dining events.
We received an enthusiastic nomination of Sierra for this honor, and all of Deerfield's team of Department Heads were eager to vote in favor.   It said in part, "Throughout her time with us, Sierra has stepped up her game in several different areas.  She's not only a great banquet server, with all the duties that entails, but as a buffet attendant she's kept that station beautiful and plentiful.  Keeping those waffle irons going while scooping ice cream is no easy task, and Sierra handles it in style!"  Another manager noted, "I can see how much Sierra has expanded her hospitality skills, and how much her fellow team members admire her.  She's someone on whom you can always count on, and it's a pleasure to serve with her.  When guests say they've had a great experience at Deerfield, it's because of Sierra and others like her.  She's a difference maker!"
2021 Employee of the Month Award Winners
December
Justin Korenkiewicz
Justin joined Team Deerfield in May of 2021 to serve in our culinary department. He immediately took a leadership role in the Pub & Grille, which is a position that is very demanding due in part to the solitary nature of the role. Our Pub & Grille line cook is often working independently, and the food has to come out hot, fast and delicious. There can be long stretches of quieter times, and then busy rushes that can be strenuous. Justin managed this dynamic in fantastic fashion and was a hit with our regular golfers and guests, as well as his fellow team members alike.
Over the course of the 2021 season, Justin began to make big contributions in other areas of the property as well. As banquet business blossomed in Q3 and Q4 at Deerfield, Justin's talents were needed in the banquet kitchen. He quickly pivoted to be a key contributor in that role, assisting with hors d'oeuvre preparation and plate up, doing a lot of banquet prep in advance of "day-of," and assisting with plating up for lunch or dinner service for weddings and special events. Justin was able to manage all of these responsibilities and more – and made major contributions to the smooth-running functions and great reviews we've been receiving from our clients and guests. Above all of that, Justin is easy to work with, fun to be around, and always possesses an optimistic attitude. He's happy to help any other team member in need and is quick to help guide or support any of his colleagues. He possesses a notable spirit of hospitality, bringing a breath of fresh air to the kitchen always.
We received a fantastic nomination of Justin, and it was endorsed unanimously among Deerfield's team of Department Heads. It said in part, "The ability to make our guests and internal customers happy is so valuable, and Justin seems to have nailed it. He displays a precocious talent for communicating. Whether at a carving station or behind the line cooking lunch, he is always there to make the people around him comfortable and at ease. He is someone you can lean on and trust."  Another manager noted, "I have worked with Justin at a carving station and seen him engage with his teammates in the kitchen. He's got remarkable people skills and possesses a skilled touch on the culinary side. Deerfield's a better place due to Justin's contributions."
November
Patrick Hallinan
Patrick joined Team Deerfield in May of 2021 and immediately made a positive impact on guest service. Although he has participated in some banquet service at Deerfield, Patrick has become primarily a Banquet Bartender. In this role, Patrick is a critical piece of the service cycle. He is often among the first team members a guest will see upon arriving for a wedding, party, or special event. His warm welcome and engaging energy consistently deliver that notable first impression that is so important in our industry.
In addition, Patrick has proven to be consistently well prepared and remarkably efficient in his role. While many guests might love to chat with the bartender – and most do – Patrick realizes the importance of balancing friendly service and necessary speed and effectiveness. He's careful with the details, always willing to help and support another team member, and is cool and calm even on the busiest days. Managers and colleagues alike have grown to rely on Patrick, as he is hard working and always team oriented.
Further, Patrick's contributions are noticed during special holiday dining events. While the pandemic has curbed some of those a bit, Patrick was the go-to service bartender for Thanksgiving Day and our Brunch With Santa events. His ability to assist the guests while making sure all the servers got what they needed in a timely fashion helped make those events smooth and successful.
We received a fantastic nomination of Patrick, and it was supported unanimously among Deerfield's team of Department Heads. It said in part, "I would like to nominate Patrick Hallinan for Employee Of The Month for November. He has such a positive attitude and is fun to be around. He put an extra effort into each drink he made and sets a great example for the entire Banquet Team. I think he's a great nominee for this honor!" Another manager noted, "Patrick's energy is palpable. He truly cares that each guest has a great experience, and that his fellow team members are supported and encouraged. We are very grateful to have his talent and enthusiasm on our bartending team."
October
Owen Fennessy
Owen is a Junior at Avon Grove High School, and came on board with Team Deerfield in March of 2021 as a member of the golf department's Outside Services Team. In this role, Owen greets guests at the Bag Drop, helps maintain pace of play, contributes to managing the first tee, and cleans and stores golf carts and range balls, among other tasks. This makes Owen very customer facing throughout a large portion of his shift. Owen is well known for greeting guests warmly and engaging with golfers enthusiastically.
Owen is very willing to assist with any task. When the activity in golf is a bit slower, Owen is often asked to clear leaves from front entrances or patio ceremony locations, and is happy to make sure that those customers have an exceptional experience, even if it's not "his job" or "his department." As a golfer, Owen understands the value of a great first impression when our guests arrive at the course, and is a big part of delivering that experience to them just as he would appreciate it if he was the golfer or guest.
Additionally, Owen has recently been a contributor on the culinary team as well. With golf slowing down and banquets/brunches/holiday events still in full swing, Owen found an opportunity to be an important part of that team as well. Chef Mike Josephick was looking for some reliable and trustworthy hands for his Dish & Utility Team, and Owen gladly answered the call. This has made him a key contributor in yet another facet of Deerfield's business.
We received a fantastic nomination of Owen, and it was endorsed unanimously among Deerfield's team of Department Heads. In part, it said, "Owen comes in every shift with a smile on his face and a great attitude for showing guests what hospitality truly means. He is known by his team for his work ethic, attitude, and continued willingness to help not only customers, but his fellow co-workers. He makes every guest feel welcome. Owen has become one of the most dependable outside service members we have had, and we are all thrilled that he is being recognized."
September
Leticia "Lety" Bernal
Lety joined the Deerfield family over 14 years ago.  In her role on our Housekeeping Team, Lety is always one to do whatever is required for the facility to be at its best for a wedding, party, special event, or for our golf guests.  She is very thorough in her efforts, always trying to make sure all the necessary details are taken care of in our common spaces and banquet rooms.
Further, Lety is instrumental in setting up everyone else that works beside her to be their very best.  Her efforts in maintaining office spaces and other "behind the scenes" areas is critical to the overall success of the team.  Lety is always exceedingly helpful in acquiring the supplies we need – or asking for them to be ordered – so that both guests and fellow team members don't miss a beat in the day-to-day operation of the hundreds of events and thousands of guests we are fortunate enough to host each year.
Another notable attribute that Lety brings to Deerfield each day is her great communication and positive attitude.  Lety enjoys visiting with her team members as she makes "her rounds," and other employees enjoy and value Lety's presence as well.  She'll always get the rundown of what a space might require and will ask about what more she can do to help.  Her vibrant spirit and friendly manner are ever-present for both employees and guests alike.
We received many enthusiastic notes about Lety, who was selected unanimously among Deerfield's team of Department Heads.   In one, a manager said, "Thorough and consistent are just two of the words I would use to describe Leticia Bernal.  Always cheerful and pleasant – always willing to go the extra mile.  Day in and day out, Lety has the same positive attitude – and a work ethic all Deerfield employees should embrace." Another said, "What a pleasure it has been to have Leticia Bernal here for nearly fifteen seasons.  We're extremely lucky to have her as a valued member of our team."
August
Maryann Verna
Maryann is one of Deerfield's most tenured employees, with nearly ten years' service to our guests and her fellow team members.  As a key member of our Dish & Utility Team, Maryann is an integral part of keeping our kitchen, and therefore our service to our guests, moving ahead smoothly.
One of many notable traits of Maryann is her reliability.  Maryann shows continued commitment to her role, making sure that she is here to do her part of guest service.  Maryann works both daytime and evening shifts in the kitchen, a crucial part of concluding some of our early events as we prepare for the often larger and later evening functions.  Maryann is very quick with a greeting and a word of encouragement and is always more than happy to assist a fellow team member with any task that may be at hand.
Often times, Maryann will proactively call to make sure that an event is still happening, if weather or some other factor may come into play.  She wants to go the extra mile to make sure she is here for the job that needs to be accomplished.  Maryann's longevity and reliability in her role is something to be admired by managers and fellow Deerfield team members alike.
We received several positive comments about Maryann, who is among our most deserving candidates to date.  In one, a supervisor said, "Maryann is constantly involved and always on the move.  She is prompt, punctual, and always pleasant.  Her knowledge of the job and performing the required tasks are top notch.  Maryann has that positive energy to put a smile on any employee's face."  Another noted, "It's a pleasure to have Maryann on the team.  Deerfield is a better place, and a better business, because of people like her."
July
Veronica Tejeda
Veronica is celebrating a Deerfield anniversary this week, as she joined Team Deerfield back in September of 2008 – thirteen years ago!  From the very beginning, Veronica was a difference maker in the kitchen.  Now working with Chef Mike Josephick, Veronica has become a most trusted resource in our culinary department.
One of Veronica's strengths is her ability to work independently.  She is often here for long days of frequently solitary preparation.  While the activity of "event day" is often what we think of when we think of the (literal) heat of the kitchen, it's in many ways the long hours of preparation that are just as important.  Veronica will often be in for the days leading up to a busy weekend to make sure that the entire culinary team is well prepared for whatever events may be coming up in the forthcoming days.
Another of Veronica's skills is her ability to adapt when circumstances change.  Maybe it's a special request from a guest, or a last-minute change in an event's guest count – Veronica is a cool head and a steady hand in the kitchen when unexpected situations arise.  No matter what the short timeline or the degree of urgency, Veronica's demeanor never changes as she diligently turns to the task at hand.
One thing that many on Team Deerfield may not know about Veronica is her fantastic sense of humor.  She "gives as good as she gets" in the kitchen, earning the admiration and appreciation of our entire culinary staff.  This, paired with her unrelenting work ethic and desire to do a great job for the guest and her fellow team members, makes Veronica an uncommon but invaluable asset on Deerfield's team of culinary professionals.
We received several glowing reviews of Veronica, who was voted on unanimously by Deerfield's Executive Team.   In one, a supervisor said, "In all my years in hospitality and foodservice, I can honestly say that I have had a more complete and consistent employee than Veronica Tejeda.  Her performance day in and day out is unmatched.  She is in many ways a backbone to the entire culinary operation, one who can be relied upon to handle any task given to her.  Day after day, shift after shift, Veronica brings her best effort – never frustrated, and always happy and cheerful."  Another noted, "As someone who works outside of her department but observes her contribution regularly, it's easy for me to see her impact on her team.  Veronica's unique combination of attitude, aptitude and service makes her someone everyone should emulate."
June
Natalian Alfaro
Natalia originally joined Team Deerfield nearly two years ago, but COVID and associated closures certainly impacted her early tenure.  However, as a Banquet Server, Natalia has been able to rejoin the team in full for 2021 and continues to be an impressive and impactful part of our service team.
However, as important as a role as Banquet Server is to the success of our events and the happiness of our clients and guests, Natalia quickly became ready for a larger role.  That opportunity presented itself in the form of Bridal Attendant, a person crucial to the execution of the event due to the meaningful influence this role has on the wedding couple themselves.  The Bridal Attendant works as the liaison between the couple and our Food & Beverage Managers throughout the course of the wedding, from a couple of hours before ceremony/reception for dressing and photos all the way until the last guest leaves and those gifts are packed up for departure.
Natalia has proven herself to be extremely effective in both roles, as she is friendly, engaging, and efficient with every guest.  She is a very quick learner, asks great questions, anticipates needs effectively, and is always inquiring about what might be next, or what she should be prepared for.  Her measured approach and calm demeaner complement her easy-going manner and big smile in such a way that each guest's experience is enhanced by Natalia's presence.  Natalia is always quick to offer to help train a new team member and is continuously supporting both fellow team members and managers throughout her shift.  She is an enthusiastic and uplifting presence both in the room and behind the scenes.
We received several positive comments about Natalia in the nominations she received from her managers.  In one, a supervisor said,  "Natalia has a positive attitude, a great work ethic, and is an undeniable team player.  I am proud to nominate Natalia Alfaro as Employee of the Month!"  Another noted, "From her very first day at Deerfield, Natalia took an immediate interest in the hospitality industry, something which shows through her quality of work. Natalia was quick to learn how different events function and has been eager to take on new responsibilities. She is always someone who is more than happy to come in early, stay late, and assist guests in every way possible. Natalia has also excelled working as a Bridal Attendant and is very thoughtful when training new team members. Natalia is an excellent example of what new banquet servers should strive for, and her quality of work embodies what the Employee of the Month Award represents."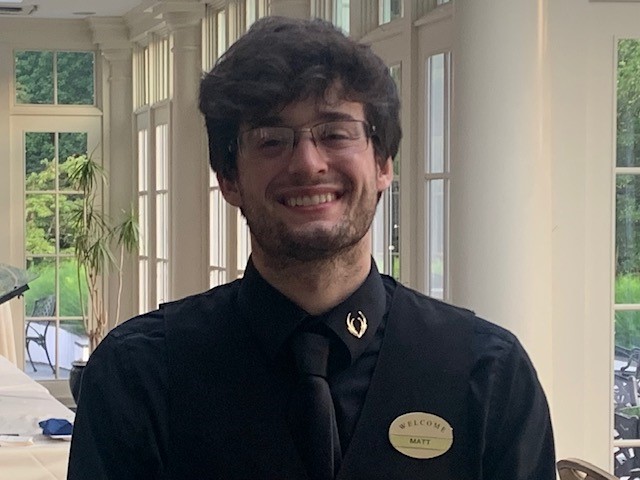 May
Matt Phillips
Matt joined Team Deerfield back in June of 2019, and has recently celebrated two years with us as a Banquet Server.  Matt immediately came onto the staff and made an impact, not only in guest service, but in the way he supported and encouraged his fellow team members.
The banquet server is such an important role in our success.  Weddings, parties and special events present an incredibly dynamic environment, in which each event – each table for that matter – provides a unique set of personalities, plans, and details to manage.  Matt has excelled in that role since he joined us.  Matt is always relied upon not only for the fundamental basics of his role – thorough prep work, careful preparedness, a friendly attitude, and a relentless spirit of hospitality.
However, Matt is always one to go the extra mile.  Sometimes, that reveals itself in training new team members, coming early to prepare a room, or staying late to turn the space for the following day.  Matt always accepts these challenging but necessary roles with enthusiasm.
Shift after shift, Matt has proven to be exceedingly reliable, trustworthy, and willing to do whatever job happens to be required.  Pre-covid, Matt was a key contributor to Sunday Brunch, Brunch with Santa, and other holiday dining events.  Matt is a great example of someone who makes others around him better just by his presence.
We received several positive comments about Matt in the nominations he received from multiple managers.  In one, a supervisor noted,  "Since his start at Deerfield, Matt has consistently been a team member who not only is capable of, but thrives with new roles and responsibilities.  He is always someone who can be looked toward to pick up extra shifts, train new staff members, and help facilitate room sets and resets.  Matt has shown a clear pride in his work and continues to learn and improve every day he is here.  Matt's hard work and dedication is something which is recognized not only by his peers, but throughout the management staff."
Said another, "Matt goes above the call of duty in every shift.  This gentleman brings his A+ game every time.  Matt is a true asset to a strong service team and is someone the rest of the staff can model themselves after."
April
Kevin McCarthy
Kevin joined Team Deerfield over two and a half years ago as a member of our culinary team. He possesses unique and diverse talents in the kitchen that are perfectly suited for the wide array of events we host, and the myriad responsibilities someone in Kevin's role is responsible for on a
daily basis.
During weddings and banquet events, Kevin is often charged with a great deal of prep work, in addition to being a key champion of hors d'oeuvres presentation during cocktail hour, keeping our banquet servers well stocked for plated service or food stations. Further, Kevin helps execute the plating up process just prior to entrees being served. On the sweeter side, Kevin is also the "man with the cake knife" as beautiful wedding cakes are sliced and served. As you can
see, he is a key contributor to the guest's entire experience, from prep through dessert.
Before coming to Deerfield as a Banquet Cook, Kevin has been a Pastry Chef and Baker at a variety of venues and restaurants. Kevin studied Culinary Arts at Delaware Technical & Community College in addition to studying Baking & Pastry Arts at Johnson & Wales University in Denver. Kevin was also an intern at Daniel's of Paris Bakery. Kevin is clearly quite the pastry enthusiast. When he's not at Deerfield, Kevin also enjoys his work as "The Joker Chef" and managing his lighthearted and informative Instagram page. Kevin's enthusiasm, energy and spirit are always on display. He elevates the optimism and the "fun-factor" merely by his presence. He has earned the trust and admiration of both the culinary team as well as the operations team with which he works closely. Everyone that works with Kevin is sure to do a better job – and have more fun doing it – when Kevin's around. This attitude also benefits our guests, as Kevin is often "up front" for Sunday Brunch or dining events.
We received several positive comments about Kevin who endorsed him as Employee of the Month. This was typical of what others had to say about him. "Kevin has elevated his role and duties here at Deerfield since his hiring over two years ago," said Executive Chef Mike Josephick. "He has far exceeded the limited scope of his original tasks when he joined us. Never one to shy away from new rigors and roles, Kevin has shown great knowledge and initiative in all aspects of culinary arts. He is a great complement to an already established staff. Kevin is the perfect team member who complies with all directives and is a 'fan favorite' amongst all departments. I am extremely proud to nominate Kevin for our Employee of the Month for April."
March
Angela Kaiser
Angela just celebrated fifteen years with Forewinds Hospitality at Deerfield, being one of the companies longest-standing team members.  Angela serves in a Sales Manager role, working with wedding, meeting, and social event planners and clients as they craft their events and special celebrations with us.
Angela, to put it simply and as the highest form of praise, is synonymous with Deerfield.  Her courteous manner, polished professionalism, and thorough attention to detail has benefitted Deerfield guests and planners for years.  It's not hyperbole to note that Angela has contributed to thousands of events over her seasons at Deerfield, and her clients have always noted that her caring attitude, engaged interest, and thoughtful approach to all events is a cornerstone of why Deerfield is their ideal choice for parties of all occasions.
Angela is also quick to assist a team member in her department or another, with the satisfaction of and service to the guest being her primary concern.  She gladly takes a leadership role in updating menus, polishing collateral, and providing accurate and perceptive feedback as offerings and marketing materials are polished.
As the most seasoned member of the sales team, Angela provided a shining example of determination and persistence under the most trying of circumstances.  Many of her clients have endured multiple rescheduled dates and altered plans through no fault of their own.  It was Angela's mission to help them navigate their options and alterations with a positive attitude and patient optimism.  Lori Amery, Director of Sales and Marketing and Angela's supervisor, specifically noted Angela's resilience throughout the pandemic. "Angela has handled each situation with empathy and professionalism," said Amery.  "I always trust that everything she does is very well thought through."
Another department head shared this.  "Please consider my nomination for Angela Kaiser.  This has been a tough year, and it's put a lot of stress on everyone.  Angela has been steady and rock solid during the entire time, and I've noticed!"  A recent client email noted something similarly enthusiastic.  "From the day we started planning to the end of the night, Angela and your team have been incredible.  She's so wonderful to work with.  She has an amazing attention to detail and was always quick to respond to all of our questions.  Thank you!"
February
Andrea Laub
Andrea joined the Forewinds Hospitality Accounting Team a little over a year ago and has made a remarkable impression on the team and the organization in that short time.  Andrea serves as the Accounting Assistant, working beside our Controller in addition to supporting some Human Resources related responsibilities.    While based at Deerfield, a large scope of Andrea's job centers around two other properties in the portfolio, Garrisons Lake Golf Club in Smyrna, DE, and Jonathan's Landing in Magnolia, DE.
Andrea is the primary point of contact for the owners of these two properties, providing valuable data and operational and/or financial updates as needed.  Especially because these facilities are up to an hour away, the communication to both ownership and the on-site team has to be clear and consistent.  Andrea connects the dots between the staff, the ownership and the management company in a professional, timely, accurate and thorough manner.
Andrea is responsible for recording daily sales, tracking any Accounts Payable or Accounts Receivable totals, helping coordinate onboarding or employment related concerns for both courses, and supporting and compliance or certification related requirements.
Further, Andrea is pivotal in the budgeting process as she and the other managers design the revenue targets and expense budgets for the upcoming season and create projections that assist in the smooth operation and responsible management of these properties.  Finally, Andrea – although not in a frequently customer facing role as a banquet server, golf professional or sales manager might be – possesses an impressive spirit of hospitality.  She engages with the internal and external customer with a warmth and grace that is a great example for all she works with.  Everyone on the team can count on Andrea to assist in any matter big or small.  In fact, last season, in the middle of the pandemic and with the grounds department needing a hand, she and her supervisor from Accounting got out and weeded and smoothed bunkers in order for the grounds crew to focus on other projects.  This is the type of selfless approach Andrea takes to her important job every day.  Somehow in addition to all of this, she is a parent and a student (at Wilmington University).
Recently, we received a wonderful nomination from a team member regarding Andrea.  It read…
"Andrea has been a dedicated, detail-oriented participant in the successes of 2020 at all three Forewinds properties.  These talents were highly visible to me, our property General Managers, our Delaware State Parks partners and additional owners throughout the successful season.  In the budget process, Andrea consistently communicated budget meeting dates and details and kept the process on track.  Throughout the year, Andrea was recognized for her weekly cash reports and monthly financial communication.  Department heads commented on her demeanor and positive, pleasant communication by phone and email.  Andrea keeps her composure when faced with frustrations that may arise knowing that everyone is working hard."  For these reasons, please consider voting for Andrea Laub for our February employee of the month.
January
Heather McFarlan
Heather joined Team Deerfield in May, 2015, and will be celebrating six years with us in just a couple of months. Heather has been absolutely instrumental to our culinary team – and a key component to the success of our property – since she arrived. Heather has been a difference maker in several roles since joining us. First of all, Heather has always taken a leadership role in the Pub & Grille, including being "on the line" preparing food for our golfers and overseeing private / limited choice corporate dinners in the Delaware Room.
Further, Heather has been a critical part of our action stations for Sunday Brunch and specialty dining events. Whether it's a carving station, an omelet station, or any number of other roles she might assume in the banquet space, her great attitude and easy conversation help her be successful in this important part of guest service.
Finally, Heather, has served as Lead Banquet Chef for about two seasons, playing this crucial role in the success and satisfaction of so many banquets, weddings, and special events. Chef Mike and Chef Jerome have grown confident in her ability to oversee virtually any function, knowing that the back of the house will run smoothly and that the clients will be satisfied.
Heather has always proven to be conscientious, helpful, flexible, trustworthy and a great team member. She has earned the respect and admiration of her managers, her teammates, and the members of the entire staff. Recently, we received a wonderful nomination from a supervisor regarding Heather. It read…
"I am proud to nominate Heather McFarlan for Employee of the Month. Heather has shown GREAT dependability, team leadership, and overall TEAM spirit during these trying times. Heather has been a 'crutch' for (us) to lean on throughout this whole pandemic. Her willingness to clean, supervise, take on projects and see them through, and generally perform her daily rigors is highly noticed, commendable, and very appreciated. Please consider Heather for this award."
2020 Employee of the Month Award Winners
October
Matthew Ryan
Matt joined Team Deerfield in June, 2016 as an addition to our outside services department. Since that time, Matt's impact on guest service has only become more significant. Matt performs a very important task at Deerfield and does it as well as anyone on his team – that great first impression. Matt welcomes our guests enthusiastically, engages in a friendly but professional manner, and helps make sure that each guest arrives to a friendly face and a positive attitude.
In addition, Matt does a tremendous job serving the internal customer – the managers and other team members with which he works. The golf department can be tricky because the volume of business can fluctuate greatly without much notice.  Matt is always one that can be counted on to do whatever job may be required.  The golf operation has many exceptional, experienced members and Matt is among the very best.
Matt has also served on more than one occasion as "Deerfield Support" for our annual large-scale event in August. Those selected to engage with this particular client are chosen for a very specific reason. Their initiative, awareness, planning, organization, and level of responsiveness must be unparalleled. His appointment to that post is a great example of how trusted Matt is to do the right thing for clients at all times. Over nearly five seasons, Matt continues to prove himself exceedingly conscientious, hardworking, responsible, dedicated and committed. We are fortunate to have him on the team.
Recently, we received a wonderful nomination from a fellow team member regarding Matt. It reads… "In these days when (people are often) asked to do more with less and be faster at it, I'd like to nominate Matt Ryan as Employee of the Month. Matt is the first person many golfers see when they arrive at Deerfield.  Always with a smile and helpful can-do attitude with the public, Matt is an asset to Deerfield's Golf staff. As a fellow (team member), when Matt is on the shift, I'm confident his assignments are completed, and I never have to follow up to double check. Ask, and it's done. Usually it's done before I ask!  Matt takes initiative, too. With the increased golfers every day this summer season and the additional cleaning responsibilities to keep the public safe, I've never had a complaint from a golfer stating our staff isn't doing their job when Matt is on the job. Matt's hustle and wanting to have a job done well are his best assets."
September
Thomas McCarthy
Tom joined our team a couple of seasons ago and the managers as well as his fellow crew members were struck by his willingness to work hard and help others.  More than any other season due to how busy we have been, we have seen this year how important maintaining course conditions, attending to detail work, and maximizing the first impression and "curb appeal" of our golf course truly is.  With rounds up dramatically and the course as busy as it has ever been, seeing to this important work has been more challenging than ever.  Tom has been a really important part of that process.
Tom works very well independently on a project on the course and learns new tasks with care.  He also is a valued teammate when working with others on the golf course.  Everyone that he meets finds his smile infectious, his enthusiasm notable, and his determination admirable.
Further, Tom has shown a willingness to assist in other departments when asked.  He is always happy to stay a bit late, help wherever needed, and make sure that we as a property put our very best foot forward.  He makes warm conversation with golfers and guests and makes everyone he touches feel at home.
Most recently, we received a wonderful review from a guest regarding Tom.  It reads, "I wanted to express what a GREAT job that Tommy does. He is always cheerful, smiling, and a hard worker as witnessed by me and all the guys I play golf with!"
August
Alfredo Vergara
Alfredo's natural demeanor and friendly approach with our guests is one of the reasons why he is so successful.  We've seen Alfredo manage the Pub & Grille with confidence and courtesy, and it's one of the reasons why our golfers and guests enjoy returning to Deerfield.
Alfredo is very popular with our Annual Golf Passholders in addition to our public golfers and dining guests.  His steady engagement, light conversation, and commitment to friendly service made Alfredo one of our post popular team members when he joined us many seasons ago, and it's just as true now that he's back.
Another great example of Alfredo's participation and commitment was as a member of the Deerfield Billiards Team.  Alfredo's competitive spirit (and his talents at the table) kept him as an important member of the squad even after he had left us to seek a new challenge.  He was always welcome and appreciated in that role.
Most recently, we received a wonderful review from a guest regarding Alfredo.  It reads, "My friends and I have been here numerous times and the service was impeccable. Alfredo is friendly, courteous, and helpful. Everything he has recommended has been on point. And his drinks are always excellent!"
July
Chris Booth
Chris has been on our maintenance crew for several seasons, and has served as Assistant Golf Course Superintendent for most of them. Chris is not only a trusted assistant of John Jacob here at Deerfield, but is a leader in several aspects of golf course and facility maintenance. Whether it's the heat of the summer watering, fall leaf removal, the stress of the spring plantings or the challenge of winter snow/ice removal, Chris leads by example and uses his talents to give our golfers and guests the very best experience possible. Further, Chris supports his fellow crew members in whatever jobs might be required in the day to day delivery of a superior golf experience for our customers.
However, earlier this season Chris was able to provide extraordinary service to not only Deerfield and our guests, but our community as a whole. Chris' initiative and effort distinguished not only himself but elevated Deerfield and Forewinds Hospitality as a whole in the eyes of Delaware State Parks, our valued partner in two of our businesses.
Captain John Wales of the Delaware Park Police shared this perspective in his official letter of commendation regarding Chris's decisive actions to contain an April fire off the Deerfield grounds:
"Chris' decisive actions undoubtedly minimized the amount of fire damage to White Clay Creek State Park property. Even though the fire was not on Deerfield property, Chris didn't hesitate. He committed himself to handling the emergency and he did a great job in the process. White Clay Creek State Park staff and Delaware Division of Parks and Recreation are very grateful to Chris Booth and to Deerfield."
2019 Employee of the Month Award Winners
2019 Employee of the Month Award Winners
December
Michelina Anderson
Mickey joined Deerfield only a few months ago, in November of 2019.  Mickey immediately made a positive impression on team members, managers and guests alike.  She very quickly became a reliable and committed member of the food and beverage team.  Several team members and managers remarked about her work ethic, determination and businesslike approach on Thanksgiving Day, one of her very first days with us.  Though a steady and focused worker, Mickey is always very quick with a smile, enthusiastic assistance, or a warm word for anyone around her.
Mickey is quick to take a leadership role on a project, work independently on a task, and works easily with others.  She has shown herself to have a great demeanor with guests, whether it's assisting a guest with a special request or recognizing when something needs to be done, or that a situation needs to be corrected.  Though on our team for a relatively short time, she has become a most steady and trusted presence in the room for any event.
However, it was one particular instance of service – service to our internal customers here at Deerfield saving the day, which sparked a nomination for this honor.  It was submitted by a fellow team member, and unanimously agreed upon by our department heads who reviewed all of our nominations.  It reads:
"On the morning of one of our very busy Brunches with Santa, we were having a lot of difficulty completing a task for the set up of brunch reservations that was needed to make the day go smoothly at the hostess stand.   We were in a panic as no one knew how to fix the issue.  Michelina, even though she had her own set up tasks to complete, sat at the computer and corrected the problem for us so that we could continue on other tasks that we needed to finish.  She showed great knowledge in how to assess the problem, as well as exhibiting a calm demeanor when we were in a bit of a time crunch to complete the task.  Her willingness to volunteer her help in an area that was not her own did not go unnoticed.  Thank you Michelina!"
November
Victoria Cortese
Victoria has been an incredibly dependable banquet server for our team since joining Deerfield in early
2019. She has proven time and time again to be an exemplary team player, a willing and cheerful
colleague for her fellow banquet servers, and a very positive and enthusiastic presence in the food and
beverage department.
Victoria is a student in the Alfred Lerner School of Business and Economics at the University of Delaware.
She also speaks French and has traveled to France among other destinations. Her experience in the
classroom and her innate spirit of hospitality has been an important part of her success since joining
Team Deerfield about one year ago. Further, Victoria has served Deerfield as a bartender at a variety of
weddings, parties and special occasions. She is a key contributor for our Sunday Brunch and holiday
dining events and is always available to assist with setting a room, helping with seasonal decorating, or
any number of projects or tasks that may arise. Victoria is well known by managers and fellow team
members as a pleasant, helpful, and engaging presence on a consistent basis.
In the Fall, Deerfield received a glowing review about Victoria following our Thanksgiving Day dining
event on which she as working. This guest shared the following:
"Our party of six thoroughly enjoyed your Thanksgiving buffet. I have to say that the service was outstanding
— and that applies to every employee with whom we had contact during our visit. However, one of our
servers was Victoria. She was exceptional. Her demeanor was pleasant and welcoming — and she couldn't do
enough to accommodate our every request. Her service was prompt and cheerful. There was nothing else
she could have done to make our visit more enjoyable. She thought of everything! Thank you!
October
Sam White
Sam joined Team Deerfield back in June, 2017 and has proven himself over many seasons to be one of our most trusted and reliable Food & Beverage team members.  Sam primarily serves as a bartender for weddings and special events.  However, Sam has also contributed to delivering a great guest experience in the role of banquet server and has been a key contributor filling in on Pub & Grille service, making sure that golfers are well accommodated and have a great experience.
Notably, Sam has also served as "Deerfield Support" for one of our biggest events of the year.  This particular event that takes place in the summer utilizes tents out of the golf course and serves nearly 1,000 guests.  In this role that is earned by many of Deerfield's very best, Sam has earned the trust and respect of our clients and their partners in this technically challenging and fast moving multi-day event.  For the past two years, Sam has performed in a superior fashion for his guests, and helped contribute toward the event's overall success.
Sam has proven himself as highly engaged, self-starting, and team focused as he not only leads his area but supports those around him.  Events at Deerfield go very well time and time again due in no small part to Sam's determination and dedication.
A Deerfield department head gladly shared this effusive review of Sam's work and spirit of hospitality.  This person wrote, "I would like to nominate Sam White, one of our most dependable bartenders to date! From his time in the pub ("Tuesdays With Sam") all the way up to Deerfield's most recent Sunday Brunch, Sam has always been there when the team has needed him.  He exhibits a positive attitude and a second-to-none work ethic. Rarely does a mistake occur when Sam is the lead bartender.  His paperwork and shift closes are always spot on. I am very pleased to nominate Sam for the Employee Of The Month Award."
September
Gabby Johnson
Gabby Johnson joined Team Deerfield in June, 2018 and quickly became one of our most admired and effective banquet servers. Gabby is highly engaged with the guest at all times, continually seeking opportunities to assist our clients and help make their visits to Deerfield extraordinary. Reliable, trustworthy and hard-working, Gabby comes prepared with a great attitude to every shift. Gabby's warmth and courtesy are noticed not only by the guests that she serves, but by her managers and her fellow team members.
Gabby has also ably handled the important responsibility of serving as Bridal Attendant. Personally overseeing the service to bride, groom and bridal party is vitally important to the success of any wedding. It requires an attention to detail and a spirit of hospitality that is exceptional. Gabby has continually fulfilled this role successfully, helping ensure that each of the couples she serves makes happy memories about their experience at Deerfield that will last a lifetime. Further, Gabby is a key contributor to the success of Sunday Brunch and holiday dining events not only as a server, but a food runner.
Gabby's contributions were detailed beautifully in a nomination we received about her from one of her colleagues. This person wrote, "I really want to recommend Gabby Johnson. First and foremost, I think Gabby deserves it because she is one of those employees whose name you see on the schedule next to yours and you know that you're going to have a better day because of it. She is a strong server, who everyone working an event can rely on. Yet, what sets her apart is her willingness to help others. Anyone can go to her for help, and without hesitation she is ready for any task. Even during events in which she's is loaded with responsibilities such as Bridal Attendant, she finds the time and energy to assist anyone that needs her help. In addition to Gabby's work ethic, I believe she deserves recognition for her amazing attitude. Even when she has a lot going on, you can always trust that Gabby will bring a positive attitude to every event she works. This is evident in the way she caters to the brides and bridal parties at weddings, how she interacts with the guests at events, and her ability to work with anyone. I'm hoping everyone agrees, and can see how her great work ethic and positive attitude are so appreciated."
August
Ryan Davenport
Ryan Davenport joined Team Deerfield as a banquet server in February of 2017 and over the past two and half years proven himself to be a highly valued, hardworking and trustworthy team member. In April of this year, Ryan earned the position of Banquet Captain, taking the operational lead with many events and working closely with the other Operations Managers in the planning and execution of events. Very quickly, Ryan earned the respect of not only his clients, but the team of banquet servers and bartenders with which he worked.
Ryan possesses a unique spirit of hospitality, always highly engaged in his approach and sincere in his desire to serve. Ryan has also demonstrated that selfless attitude via his willingness to take on additional side projects at Deerfield that required his effort and attention. Whether it was a maintenance project, spring cleaning or supporting the needs of another department, Ryan has shown a remarkable willingness to help when needed in myriad ways.
Further, Ryan is a great example of being nominated not only for an impressive body of work over time, as noted here, but for specific instances of praise and recommendation. Ryan has received many effusive compliments from clients who have not only taken the time to recognize his work ethic and dedication, but to share it with us. One such client was an event we hosted recently for a family celebrating a 50th Wedding Anniversary. It was a very busy day, and this particular event had many unique touches and special décor elements that were critical to the event's success. In addition to the excellent performance of our entire team, Ryan was specifically noted in a glowing review from the client that noted, "I would also like to commend the evening's Captain, Ryan, who professionally and seamlessly managed the flow of the event and coordinated with me throughout the evening to ensure the proper timing of key moments (grand entrance, speeches, dinner, photo montage, cake cutting, etc.)" These are the kinds of comments and reviews that will facilitate a family joining us again and again for any number of parties or celebrations. It is critical to our success that each of us seek out the opportunities to serve in the remarkable way that Ryan did in this case.
July
Fausto Torres-Gomez
Fausto is one of our most tenured employees for the entire company across any department, not just the grounds crew, having joined us back in 2007. Fausto has proven to be a most reliable and talented member of our agronomic team, regularly taking on special projects, assuming new responsibilities, and working incredibly well both independently as well as a part of a group.
The golf course is among our most valuable assets. Fausto has shown himself to be a leader in the care of this delicate and important part of our property. In the heat of the summer, he is working hard to ensure that our course is kept in wonderful shape for our players. In the coldest months of the winter, he is among the very few on the team who shoulder the responsibility of snow removal, clearing paths, laying down salt, and making sure our guests and our team can arrive and depart safely.
However, Fausto's nomination, submitted by a department head at Deerfield – and unanimously endorsed by Deerfield's group of Department Heads – puts it perfectly. "Fausto has always been a consistent performer on the grounds crew but has increased his leadership this year by being a model employee. Fausto completes his tasks in a timely manner while always making sure quality is never sacrificed. Even when he is tasked with a certain job he is always willing to help someone else even when it's not his responsibility. For example, Fausto is often grabbing a blower to clean off some greens when he is mowing surrounds – or will help a newer employee who is unsure of something. He is continually willing and helpful. If Fausto sees a potential issue on the course, he can be counted on to point it out to management and not look the other way. Lastly Fausto has be best attendance record of the crew this season. Fausto constantly works his schedule and even volunteers to help on weekends off when help is needed."
Congratulations Fausto!
June
Nathan Burgun
Since joining Deerfield in October of 2017, Nathan has become an invaluable member of our team in the kitchen, working hard and long into the night (and early morning) to make sure that an incredibly important part of our guest service – dishes and utility – is delivered flawlessly. Nathan has become an incredibly reliable resource in our kitchens over the past two years, taking on difficult, challenging jobs with determination. The Pub & Grille as well as all banquet events benefit from his complete familiarity with how that part of the property works, and his efficient and thorough effort. Deerfield would not be able to do what it does without his talent and tenacity.
However, maybe the nomination that was submitted by a colleague – and unanimously endorsed by Deerfield's group of Department Heads – says it best. "Nathan's consistent, positive attitude, his willingness to come in early or stay late, his dedication to ensuring all his responsibilities are completed before leaving, and his desire to help (fellow team members) with rides home so they do not half to walk in the dark to make it to the bus station are just a few of his best qualities. I have observed these and many other great qualities since Nathan began working here and I feel Employee of the Month would be a great way to honor his hard work and dedication."
May
Michael Connor
In less than a year, Michael Connor has made a meaningful impact on our Food & Beverage team at Deerfield. Michael's enthusiasm, team-oriented spirit of hospitality, effort, reliability and exceptional guest service has made him an immediate impact player. Not only is Michael extremely admired by our clients and appreciated by our guests, but he has quickly become one of the obvious staff leaders among his peers. Michael encourages his colleagues, and clearly has earned both their friendship and their respect as witnessed during our Summer BBQ. Michael can be trusted with virtually any task or responsibility even after such a relatively short time on the crew.
However, don't take my word for it. We received two separate communications from clients/guests noting how exceptional Michael's service was during each respective event. Tim Gibbs from the Delaware Academy of Medicine noted, "The service and attitude of one employee stood out as exceptional. Michael Connor was there with a smile, provided expert caring assistance at every turn, and instantly turned a couple of near missteps into wins. He was the evening's MVP in my book." Then, we received this from a wedding guest. "Your employees were outstanding! Michael (Connor) was especially wonderful and should be acknowledged by his supervisor in some manner. He was super sweet to me and my husband more than once that night. I had never been to your place and was highly pleased. (The) food was delicious, but the employees made it exceptional."
April
Lizette Kennedy
Lizettte has been with Deerfield since July of 2015, and in over four years of service with Deerfield has served in a number of crucial capacities as Food & Beverage Manager, Banquet Supervisor, Sales Manager, and most memorably, the "Brunch Queen of Newark, DE." Her talents in guest services, event design, room setup and décor, staff development and overall excellence in event sales and execution have made Deerfield a better place for team members and guests for the past four seasons.
In her nomination, Lizette is described by a manager as "the employee we all desire to be." Most notably, her willingness to lead by example is truly second to none. Many might transition to a new role and never look back. However after transitioning to Sales from Operations earlier in 2019, she selflessly continued to assist the operations team not only for Easter and Mother's Day dining events, but to help train the more junior Operations Managers to help ensure they were set up to be successful. Lizette truly embodies the Forewinds Hospitality values, investing time and energy into enriching each client and employee she touches.
March
Joel Hernandes
Joel has been with Deerfield since May of 2017 and in about two years with Deerfield, has helped lead several remarkable facility improvements that have made the guest experience even more exceptional. Joel's list of skills and projects are too numerous to list here. We have seen him tackle anything from electrical and plumbing to painting and woodworking with talent, enthusiasm and determination.
Additionally, Joel regularly pitches in on any number of special requests – operationally during our largest events, helping supervise parking challenges, fixing kitchen equipment in a pinch, and enhancing or improving safety related issues around the property. Many projects pop up late in the evening or overnight, and Joel never hesitates to come back to Deerfield from home to make sure an event or a client is assisted with care. I know Joel is a trusted resource and a friend to all. Deerfield's internal and external guests are very lucky to have his talents at their disposal.
February
Kerman "KJ" Joseph
Kerman has done an amazing job bringing an enthusiastic attitude, a friendly face, and a skilled culinary skill set to our Sunday Brunch team, as lead on the Sunrise Station. Many Sunday Brunch guests go out of their way to comment about KJ's warm rapport and positive approach to each guest interaction.
Further, KJ has been a key addition to the catering team in the kitchen, skillfully assisting with entrée preparation, overseeing hors d'oeuvre presentations, and coordinating so many details of our catered events schedule.
Congratulations KJ!
January
Alex Johnson
Alex Johnson was nominated by several Deerfield department heads for his dedication to serving both guests and team members alike, contributing to many aspects of Deerfield's business with care and determination, and for his tireless willingness to assist on any project big or small with enthusiasm and courtesy.
Congratulations, Alex!
Would you like to nominate a Deerfield team member as Employee Of The Month? Please fill out the online form below and tell us your story!
Winners of the Employee Of The Month Award will earn a certificate, the addition of his or her name and likeness on a plaque in the Clubhouse, the sharing of their story via our online and social media platforms, and a $50 gift card. Thanks for nominating a team member for this recognition.